Varma merkki lähestyvästä kesästä on kesätuoksujen ilmestyminen kauppoihin! Ja sekös minua riemastuttaa, sillä tykkään kesätuoksuista ihan liikaa ja hankin joka vuosi uuden. Harmillistahan tässä kesätuoksumaniassa on se, että kun tykästynkin johonkin tuoksuun, niin kohta sitä ei saakaan enää kaupasta. Pitäisi siis suosiolla ostaa heti useampi pullo...
Esittelen tässä nyt muutaman suosikkini tähän mennessä.
(Kuvaukset
Fragrantican
sivuilta)
"Taj Sunset is the Escada limited edition for 2011. Exotic, juicy and summery as always, Escada Taj Sunset opens with notes of Alphonso mango, nectarine and blood orange. The heart features aquatic flowers with raspberry and pomarosa or Malay apple. The base consists of coconut, sandalwood and musk."
Aijai, ihanan makea tuoksu, joka tuoksuu todella kesäiseltä. Tätä on onneksi vielä hieman jäljellä, sydämeni varmaan särkyy kun se loppuu.
"Escada Rockin Rio introduces playful accords inspired by the ultimate fruity cocktail composed of sweet and fresh fruity zests enriched with coconut. With the sound of Brazilian samba top notes dance with tangerine, pineapple and papaya with exotic coconut twist, providing a fresh, tropical opening. A heart is created of cotton candy and peach while a base closes with sandalwood and musk."
Tämä oli viime kesän tuoksuni ja edellisistä vuosista viisastuneena ostinkin heti kerralla oikein kunnon jättipullon, jee.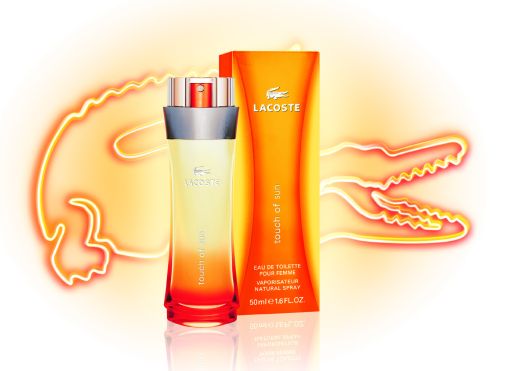 "Touch of Sun is a summer edition of Lacoste's Touch of Pink perfume. This fragrance is optimistic, sun-kissed and a true fruity-floral cocktail. The fragrance opens with a burst of energetic citrusy juices, along with eau-fraîche and green notes. The heart is very floral,but modern, where notes of rose, peony and jasmine bloom . The woodsy base is composed of sandalwood and vetiver which are rounded out with hints of amber and musk. "
Suosikkini tähän mennessä. Voi miksi en ostanut useampaa pulloa?! Pikainen vilkaisu Saksan Amazoniin kertoo, että tuoksua kyllä saa vielä MUTTA hintaa onkin yli 70€. Nyyh. Jenkeistä tuoksua saisi toki halvemmalla, mutta en ole sieltä koskaan tilannut, niin en tiedä tulleista ja muista. Jos joku on viisaampi niin saa valistaa. :)
"CK One Summer 2007 by Calvin Klein is a Woody Aromatic fragrance for women and men. CK One Summer 2007 was launched in 2007. The nose behind this fragrance is

Harry Fremont. Top notes are orange, mandarin orange, grapefruit, watermelon and water mint; middle notes are ginger, orange blossom and marigold; base notes are vanilla, orris root, guaiac wood and vetiver. "
Voi miten ihanat kesämuistot tästä tulee! Tuoksu on tarkoitettu molemmille sukupuolille, joten se on näistä suosikeistani selvästi vähiten makea. Olen haistellut muutkin Calvin Kleinin kesätuoksut läpi tämän jälkeen, mutta yksikään ei ole kolahtanut samalla tavalla. Mutta ehkä tänä kesänä..?
Yhteenvetona todettakoon, että tykkään trooppisista, hedelmäisistä, makeista ja mausteisistakin tuoksuista. Sitrushedelmät ovat ihan must ja niihin yhdistettynä makeammat trooppiset hedelmät kuten mango ja papaija saavat minut hulluksi. Kukkaistuoksuista en yleensä innostu.
Ilmeisesti oranssi pullo kiinnittää huomioni? Johtuu ehkä siitä että yhdistän tuon oranssin värin juuri yllämainittuihin hedelmiin ja kesän kuumuuteen.
Tämän kesän tuoksu ei ole vielä löytynyt, jos jollain on hyviä ehdotuksia tuoksuista jotka sopii yllä oleviin kriteereihin, niin

please

kertokaa ihmeessä!
Olen nimittäin huomenna lähdössä laivalle ja tax freestä voisi hakea jonkun pullon... ;)